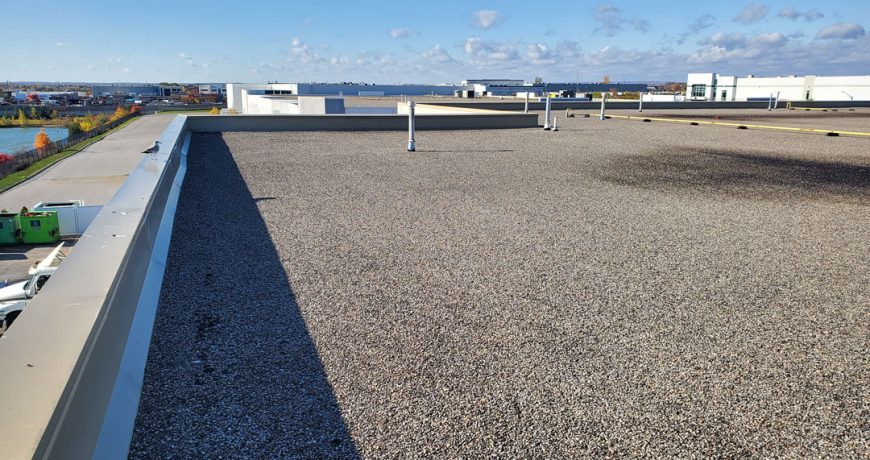 SIDING & SHEET METAL
Dufferin Roofing believes that in order to maintain a high level of standard, you need to control very aspect of the roofing process. The final step which includes the sheet metal work is performed by our sheet metal division. Using a Series 8000 pre-painted sheet metal, our sheet metal team create the appropriate coping and counter flashing required for each specific project. The finished sheet metal work is not only aesthetically pleasing, but also adds protection to the new roofing system and building envelope.
With our onsite metal fabricators, the savings get passed on to the client. Like our roofers, our Metal workers uphold the highest quality of workmanship and on-site Health & Safety.
The Dufferin Advantage
Bad weather happens, that is why our metal division is always on-call, at the ready when disaster strikes.
Metal is bent at our shop and shipped directly to the jobsite, this allows for timeless installation, and fast completion of all our roofing projects.
Unionized workers
Over 50 years of metal installation experience
Quality assurance guarantee
Daily Site updates
24/7 Support
FAQ
Our metal workers have experience on all project types. Whether it be high rise condominiums, or traditional industrial/ commercial building.
Health & Safety is held to the highest standards. All our workers are trained by ministry approved instructors.
All jobs are given a guarantee to ensure best quality workmanship. If there is any trouble after a project is completed we will be onsite the next day to remedy the situation.